Lucentᵘᵛ Disinfectant UVC Lights
Lucentᵘᵛ is a global leader in uv disinfection
"We bring in large UV lamps, hit 'start' and leave the room. We let it shine for three to five minutes. It disinfects anywhere it can shine."

Dr. John Lowe, Director of a biocontainment unit commissioned by the United States' CDC, who relies on the lights Lucentᵘᵛ offers to disinfect Ebola and COVID-19 patient rooms.
"The data is very clear that you can kill and inactivate viruses with UV germicidal irradiation...It is also very clear that you will not damage the respirators."

Dr. Mark Rupp, University of Nebraska Medical Centre, who relies on the lights Lucentᵘᵛ offers to keep healthcare workers and other patients safe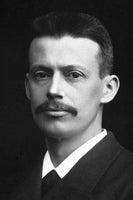 OUR STORY
Pictured in this photo is 1903 Nobel Prize winner Niels Finsen, who helped pioneer the use of UV light in medical applications.
We pay tribute to Finsen and others that have inspired generations of inventors to harness the power of UV light for the betterment of humanity.
Lucentᵘᵛ is committed to contributing to the advancement of UV applications that keep people healthy.
Read More